I am pleased to send you the link to the Vincenpaul-Canada newsletter (Vol 4 No. 6  – September 2020), the National Council Edition.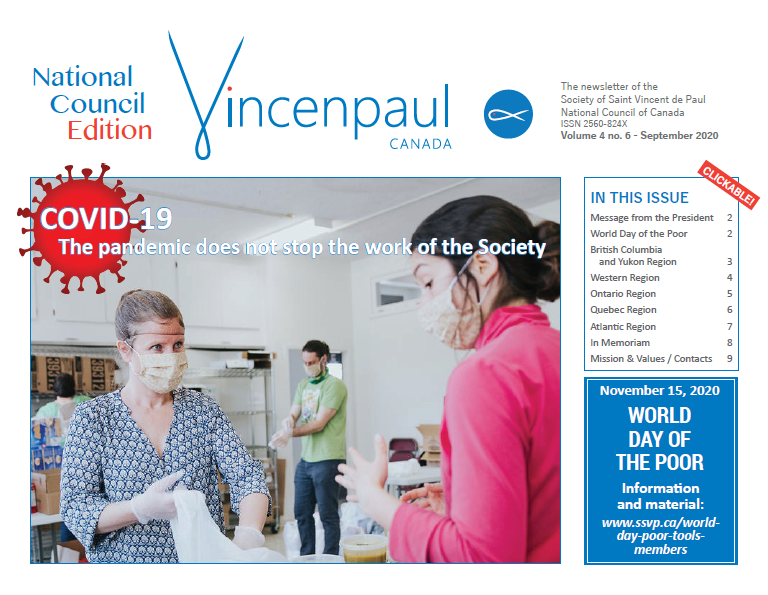 https://ssvp.ca/members/publications/newsletter-archive/
Newsletters for 2020-2021
September : National Council
October : Social Justice
November: Western Regional Council
December : Atlantic Regional Council
January: Ontario Regional Council
February: Social Justice
March: BC & Yukon Regional Council
April : Quebec Regional Council
May : National Council
June: Annual Report
If you wish to submit a text for your region's edition, please send it to: editor@ssvp.ca, at least six weeks before the month planned for publication.
Thank you,
Josée Lemieux
Administrative Assistant / Assistante administrative
Society of Saint Vincent de Paul – National Council of Canada / Société de Saint-Vincent de Paul – Conseil national du Canada
2463 Chemin Innes Road, Ottawa, ON  K1B 3K3
Tel: (613) 837-4363, Toll-free/sans frais : 1-866-997-7787 (1-866-997-SSVP), Fax: (613) 837-7375
national@ssvp.ca
www.ssvp.ca