Annual National Formation (ANF)
Carleton University's Richcraft Hall in Ottawa
June 9 and 10, 2023
Theme: Servant Leader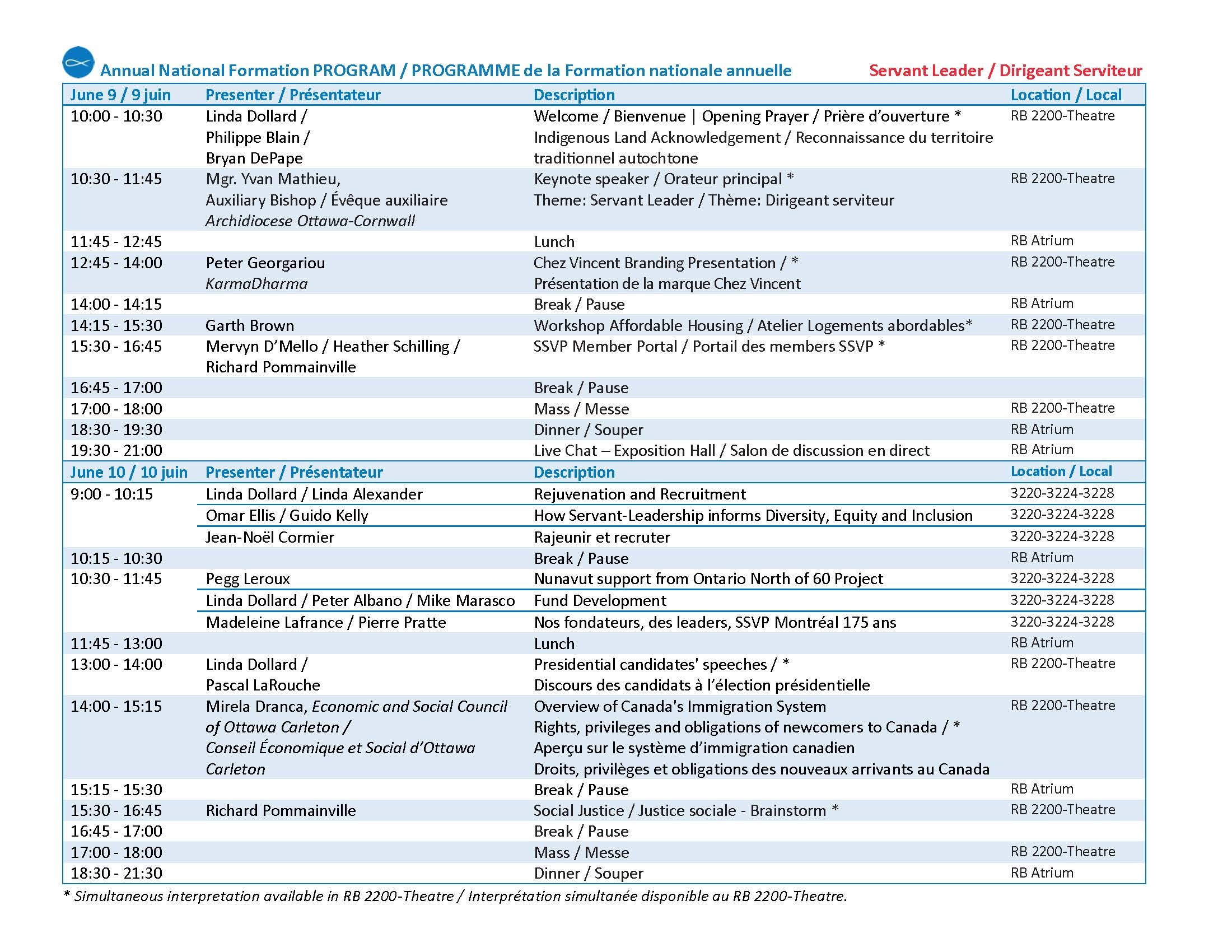 Deadline for registration: May 22, 2023
This will be an opportunity for you to meet Philippe E. Blain, our new Executive Director. You will also have the chance to get to know our two candidates for the election of the National President, Linda Dollard and Pascal LaRouche. Linda and Pascal will introduce themselves to the members on Saturday afternoon, to share their journey with the SSVP and their future vision.The meeting will begin at 10:00 a.m. on Friday with a welcome address, followed by the keynote speaker, Bishop Yvan Mathieu, Auxiliary Bishop of the Archdiocese of Ottawa-Cornwall, who will speak on our theme Servant Leader. Workshops will be presented in the afternoon.Workshop and presentation topics:
Introduction to the members' portal
Chez Vincent, a new brand image for our stores
Fund development
Rejuvenation and recruitment
Social justice reorganization
Want to hold a Workshop?Again this year, we will resume the live chat room on Friday evening. We invite conferences and councils to share information about their projects and/or promising ideas for serving the poor.Chat room discussion topics:
Seeds of hope
Project in Nicaragua and twinning
North of 60
Young Vincentians
Want to present a topic in the chat room?All Vincentians are invited to attend this Annual National Formation. This time together offers more than just information. It brings us closer together and maintains the sense of belonging that nourishes the soul and rekindles our faith.We want to create an inspiring and challenging event, where we can network and enjoy the company and wisdom of our colleagues. We look forward to seeing you there.Please note that the statutory meeting, also known as the Annual General Assembly (AGA), will take place at a later date.